Flamenco Dance Forms CD
Flamenco Dance Forms
Rhythms for dance practice
Guitar: Sal Bonavita
Playing time: 68 min
Price: $4.00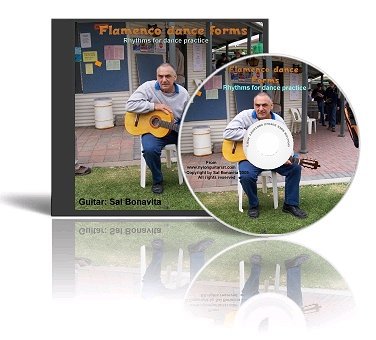 Price : $4.00 (Plus shipping)
Buy now


Dancers

Guitarists

Teachers

Compás

- Use it to accompany your daily exercise routines at home

- Steal my falsetas and rhythm variations

- Use it in class

- beats are always clearly highlighted. You won't get lost.
Tracklist
Listen
1
4 Sevillanas (slow)
2
4 Sevillanas (fast)
3
Alegrías (slow)
4
Alegrías (fast)
5
Alegrías Escobilla (slow)
6
Alegrías Escobilla (fast)
7
Soleá (slow)
8
Soleá (fast)
9
Farruca (slow)
10
Farruca (fast)
11
Fandangos (slow)
12
Fandangos (fast)
13
Buleria (slow)
14
Buleria (fast)
15
Tangos (slow)
16
Tangos (fast)
17
Siguiriya (slow)
18
Siguiriya (fast)
19
Soleá por Buleria (slow)
20
Soleá por Buleria (fast)
21
Guajiras
22
Rumba
23
Study in C
24
12 count: 12-3-6-8-10 (slow)
25
12 count: 12-3-6-8-10 (fast)
26
12 count: 12-3-7-8-10 (slow)
27
12 count: 12-3-7-8-10 (fast)
28
12 count: 3-6-8-10-12 (slow)
29
12 count: 3-6-8-10-12 (fast)
---
Details
This CD was originally recorded in 1999 for flamenco dance students at the various dance schools I played at in Adelaide. There is not much to say about it really except that what you see (and hear) is what you get.
I don't make any fancy claims for this CD.
It is simply what it is, nothing more. It is an aid for dance students to practice their steps at home.
In case you're wondering, track 23 is definitely not flamenco.
You might have guessed that already. "Study in C" is a classical guitar standard by Spanish guitarist and composer Fernando Sor (1778 – 1839). The reason I included this piece is that I used to play it in dance class when the dancers were doing their exercises in turns. It fitted perfectly with other practice routines as well and was frequently requested by one of the teachers.
Confession
I shouldn't really be saying this, but as time marched on I got to like some of the tracks less and some I liked more. I seriously considered leaving some of the tracks off this re-release. But rather than impose my prejudices on you, in the end I decided to leave the tracks exactly as they were in 1999.
So there you have it, ….warts and all.
I hope you enjoy listening to this little piece of my personal history.
Comments and suggestions are welcome
Contact me